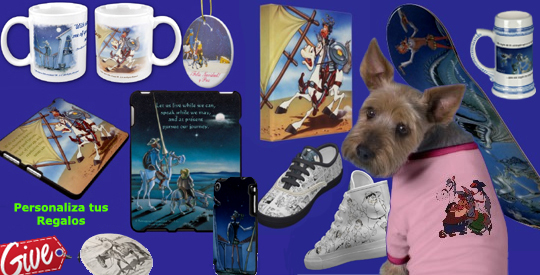 Visita QUIXOTEdotTV - LA TIENDA del IV CENTENARIO
USA | UK €/£ | Canada | Australia | New Zealand |Germany
España | Brazil | Portugal | France | Japan | Sweden
DON QUIXOTE OF LA MANCHA
CHAPTER XXXII
"The Isle of Barataria"
(SYNOPSIS)

Sancho arrives with his entourage at the Isle of Barataria where he is received with great honors and distinction. He is presented with the key to the city, which is solid gold, and the new Governor is taken aback by it all.
Soon thereafter, Sancho is asked to settle a dispute between a creditor and his debtor. Showing great prudence in the dispute, he astounds his subjects by his leveled sense of justice.
In the dining-room of Barataria Palace, Sancho prepares a grand fiesta, but the Isle's doctor won't let him eat anything, saying that some of the food will harm him because it is too damp, others because they are too greasy and the rest because it is too highly spiced.
The Governor tries hard to obey but finally, in a furor, fires the inconsiderate doctor who has refused to let him eat.
In the interim, a rider arrives with an urgent letter from the duke. In his message, the duke warns Sancho that some enemies are scheming to attack Barataria, and that some spies are already in the Isle plotting to assassinate the governor. The duke counsels him to keep his eyes and ears wide open and to be careful with what he eats, as it might be poisoned.
That night Sancho and his followers make the rounds of the Isle on the lookout for any suspicious persons, in keeping with the duke's warning.
While making his rounds, Sancho sees two men arguing over a game of cards. He again metes out his own peculiar style of justice to the two rowdies.
Later on, a constable draws near to the Governor and his entourage. He has a young prisoner with him, whom he found wandering round alone during the wee-wee hours of the morning, and who had tried to run when he saw the law. Sancho asks the fugutive a few questions, which are answered very cleverly (in a waggish manner). The Governor threatens to make him spend the rest of the night in jail if he doesn't hold his tongue. The youth then says that the Governor, even with all of his power, could not force him to spend the night in jail if he did not want to. Finally, Sancho lets him go warning him to mend his manners or he will wind up in a bad way.
A few days after departing from the castle, the rider with Sancho's letter arrives at the village of Don Quixote. The rider finds Sanchica in the public washing place and accompanies her home.
Sanchica calls her mother and the rider kneels before her with great respect. Teresa, a good Woman, is startled and does not know what to make of it all. The rider shows them the letter from the Governor and another from the duchess, plus a few valuable gifts that fill them with awe and contentment.
Webmaster: Santiago Romagosa - ,Productor largos "Don Quijote I & II", Comisario Exposición "Cervantes Encantado" y Director Gral.de la Sociedad Romagosa International Merchandising, S.L. ©-Romagosa International Merchandising, S.L -Todos los Derechos Reservados