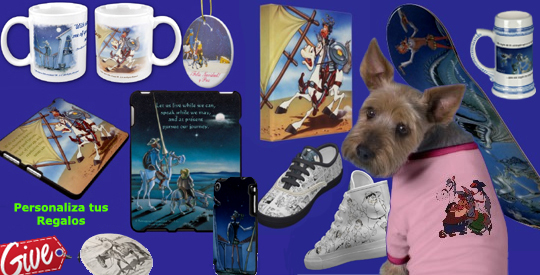 Visita QUIXOTEdotTV - LA TIENDA del IV CENTENARIO
USA | UK €/£ | Canada | Australia | New Zealand |Germany
España | Brazil | Portugal | France | Japan | Sweden
DON QUIXOTE OF LA MANCHA
CHAPTER XXXI
"Governor Sancho Panza"
(SYNOPSIS)

The bachelor Samson Carrasco continues his travels in quest of Don Quixote. Night sallies before he reaches Cuenca and as both he and his horse are tired out, they decide to spend the night on the road. Then, quite by accident, Master Pedro (Gines de Pasamonte) and his puppet show pass that way. When the puppeteer sees Samson fast asleep, he decides to take advantage of the opportunity to steal his horse.
On awakening, the bachelor discovers what has happened and is saddened to thing that now he will be unable to get to Saragossa in time to find Don Quixote.
The Countess sends a rider with Sancho's letter to Teresa. Meantime, the squire is preparing to take charge of his isle. Don Quixote gives his squire some sage advice on how to govern an isle. Then Sancho, after having said farewell to the duke and duchess and his master, leaves with
his entourage to the isle of Barataria.
Sancho has been gone but a short while when Don Quixote begins to miss him. The knight is in his bedroom, seated on his bed in his nightgown. It is night and silence reigns supreme. Suddenly he hears voices in the garden and a maiden serenades him. He doesn't realize that the girl, Altisidora is pulling his leg and ingenuously believes that the maid is really in love with him. But as he is faithful to Dulcinea, he closes the shutters and retires to his bed. Shortly thereafter, he hears a loud clattering and howling of cats. The knight jumps out of bed, startled. From above him, AltiBidora and another girl lower a basket with cowbells and cats. The two punsters leave the basket on Don Quixote's balcony. The cats open the top of the basket and jump into Don Quixote's bedroom. B
Believing that they are his enemies turned into cats by some bewitchment, he falls into the fray. The cats cover him with scratches before jumping off the balcony into the garden to disappear into the night. Altisidora is highly amused at it all.
A little while on, one of the ladies of the castle (with her face covered) enters Don Quixote's room. On seeing her, Don Quixote thinks that she is a ghost in quest of help, one who has appeared before him
to ask for his aid in righting a wrong. Doña Rodríguez (the lady in
question) tells him that a young laborer, a vassal of the duke, had promised to marry her daughter but had later on changed his mind. She wants Don Quixote to force the disloyal youth to marry the poor girl,
telling him that she is a real jewel and much prettier than Altisidora,
in spite of the latter's fame as a beauty. Altisidora and another girl are listening behind the door. Highly offended by the words of the lady, Altisidora and her companion enter Don Quixote's bedroom without being seen nor heard and blow out the light held by Doña Rodriguez. Hen they tear into the frightened lady making her flee from the room as though chased by ghosts herself. Don Quixote is them hit on the head with a book and is left confounded by it all not knowing what has really taken place.

Webmaster: Santiago Romagosa - ,Productor largos "Don Quijote I & II", Comisario Exposición "Cervantes Encantado" y Director Gral.de la Sociedad Romagosa International Merchandising, S.L. ©-Romagosa International Merchandising, S.L -Todos los Derechos Reservados