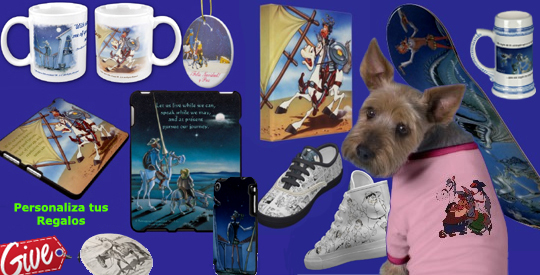 Visita QUIXOTEdotTV - LA TIENDA del IV CENTENARIO
USA | UK €/£ | Canada | Australia | New Zealand |Germany
España | Brazil | Portugal | France | Japan | Sweden
DON QUIXOTE DE LA MANCHA
CHAPTER XX
"The Licentiate Samson Carrasco"
(Synopsis)
The curate and the barber tell his niece and housekeeper to take good care of him so that he can be cured of his madness.
Later ont when our nobleman seems to have recovered his reason, his two friends go up to visit him. During the conversation, they tell Don Quixote that the Turks are coming with a powerful navy and it is feared that they will attack. Don Quixote thinks that the King should follow his counsel, calling a meeting of all knights-errant of Spain for even though only half a dozen of them showed Up 't would be sufficient to destroy the Ottomans. And with such conversation as this, the curate and the barber realize that their friend is as crazy as ever.
The conversation about giants and knights continues as Sancho arrives at the house, but Don Quixote's housekeeper and niece refuse to let him enter, accusing him of filling his master's head with these mad fantasies. But Don Quixote hears the argument and bades Sancho come up to his bedroom. The curate and barber leave, worried.
The squire then accuses his master of having enticed him from his
home and lead him off to all sorts of adventures. Don Quixote replies that together they went and together they ran the gauntlet of the same luck.
Then he asks Sancho what the people are saying about him. "Well, some think that Your Grace is an amusing madman, whilst others say that thou art brave but unfortunate..."
Don Quixote replies that few of the famous heroes of the past have managed to escape the slander of malice. Sancho then informs him that the bachelor Samson Carrasco has just returned home after having studied in Salamanca, and that Samson has told him of a book recently published, called "The Ingenious Gentleman Don Quixote of La Mancha", in which their adventures together related. Our Nobleman, filled with Curiosity,
Sends Sancho off in quest of the bachelor. Samson Carrasco was a young. man fond of practical jokes. He entered the room, greeted Don Quixote very ceremoniously and begins to talk to him about the book, which is being sold the world over, and he begins to entice Don Quixote to sally forth in quest of further adventures, telling him to go to Saragosse
where they are about to celebrate their famous jousts, wherein he could
win fame over the Aragonese Knights.
So Don Quixote decides to leave in search of new adventures. Sancho runs home and tells Teresa Panza, his wife, all about it and makes his plans. He is finally sure of winning his Isle, that his master has promised him for so long.
When the housekeeper and niece discover the plot, they try in vain to dissuade him from so mad adventure.
Then one night, Don Quixote and Sancho, astride Rocinante and Rucio, sneak out of the pueblo. They are accompanied by the bachelor Samson Carrasco for a little bit, Who has Come to wish them well.
The bachelor wishes Don Quixote good luck, and then takes his leave.

Webmaster: Santiago Romagosa - ,Productor largos "Don Quijote I & II", Comisario Exposición "Cervantes Encantado" y Director Gral.de la Sociedad Romagosa International Merchandising, S.L. ©-Romagosa International Merchandising, S.L -Todos los Derechos Reservados