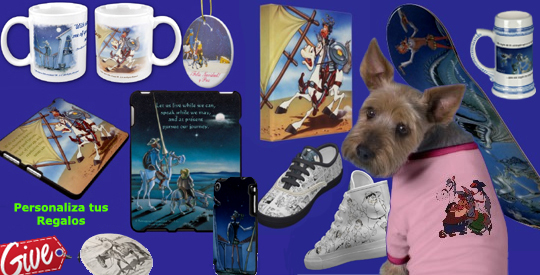 Visita QUIXOTEdotTV - LA TIENDA del IV CENTENARIO
USA | UK €/£ | Canada | Australia | New Zealand |Germany
España | Brazil | Portugal | France | Japan | Sweden
DON QUIXOTE OF LA MANCHA
CHAPTER XIX
"Resting Up For New Adventures"
(SYNOPSIS)
Sancho, mounted on his Rucio and going at a trot, draws near to his house. He is in a small street of the village, with a herd of pigs. He greets them, full of good cheer. The pigs grunt and seem to recognize him. The swineherd greets him with an "adios".
Teresa Panza, who has been informed of her husband's return, runs out to meet him, with-her arms outstretched.
"What have you won with your adventures as squire? What presents do you bring for me and Sanchica? his wife asks.
Sancho hasn't won any isles but his master has rewarded him handsomely
for his services.
The church bell peals and turns over welcoming Don Quixote home. It is the curate who Shows his joy at having recuperated his good friend and neighbor, don Alonso.
Sancho has a banquet in the kitchen of his house, prepared and served by Teresa and Sanchica. They are all very happy. Even the cat seems to be happy, with its purring.
Don Quixote, tired from his adventures, sleeps soundly in his bed. The niece and housekeeper leave him to rest. The hound dog, on the foot of his master's bed. also sleeps peaceably.
Our knight dreams once again of his Dulcinea. He is participating in a medieval joust. He is wearing his armor and Mambirno's helmet, mounted on Rocinante. An imaginary emperor, crowns him, next to his throne, and makes him governor of one of his kingdoms. The trumpets sound to celebrate the colossal deeds of this Knight of the Pitiful Countenance.
Cervantes tells us that Don Quixote was calm and quiet in his bed. The curate and barber hope that with a long rest, he will be able to cure himself of these manias. With good food and the loving care of his niece and housekeeper, and some good counseling, everyone hopes that he will be dissuaded from wanting any more adventures.
The barber returns to his barber shop to trim the beards of his customers, whilst commenting on the adventures of the now-famous knight. The whole town is now talking about Don Quixote's fame. The hound dog and crow, now definitely good friends, say good-bye to their escapades, and the amusing crow flies off to the grain patch, to look for a few leftover grains, then on to the fields and its free life in the sky.
Don Quixote leads a normal existence. He goes hunting with his dog. Both of them have some amusing ups and downs. But our nobleman continues to daydream , and even though he has no more books on chivalry to read, the niece, housekeeper, curate and barber begin to suspect that any day now he will take to the hills, with or without Sancho, to undo wrongdoings, make justice shine and win name and fame for himself. That day still has not come, but the knight is already dreaming up new adventures, fighting against colossal giants and humiliating many overly-proud and arrogant cowards and haughty rogues.

Webmaster: Santiago Romagosa - ,Productor largos "Don Quijote I & II", Comisario Exposición "Cervantes Encantado" y Director Gral.de la Sociedad Romagosa International Merchandising, S.L. ©-Romagosa International Merchandising, S.L -Todos los Derechos Reservados