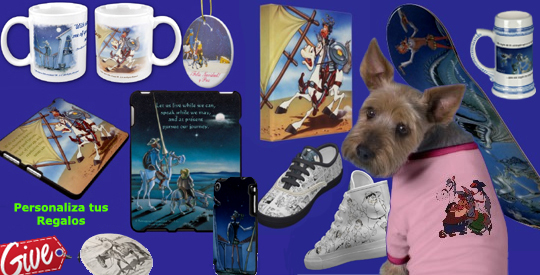 Visita QUIXOTEdotTV - LA TIENDA del IV CENTENARIO
USA | UK €/£ | Canada | Australia | New Zealand |Germany
España | Brazil | Portugal | France | Japan | Sweden
DON QUIXOTE OF LA MANCHA
CHAPTER XXXVIII
"The Lashing Of Sancho"
(SYNOPSIS)

On their way home, Don Quixote and Sancho Stop at an inn where, at that moment, a huckster is hawking the famous balsam of Fierabras to the naive muleteers. But on tasting it, they become nauseated. They then tear after the huckster, Who flees the inn without further ado, but with his pockets full. Sancho asks his master to right this wrong but Don Quixote replies that he is under oath not to take arms against anyone for one year, but asserts further that as the rogue has sinned against God and man, his bad deeds will surely pursue him wherever he goes and that he who begins bad, ends bad...
Two farm laborers have a dispute to settle between them and ask Don Quixote to intervene and be the judge of which is right, but the bold knight delegates his authority in Sancho Panza, Who already had experience as judge when he was governor of the Isle of Barataria. So prudent is the sentence handed down by Sancho that the two litigants invite him to partake with them.
Meantime, the Knight of the White Moon has returned home. with his eyecatching disguise. The children of the village are highly amused at such an apparition, as well as the curate and barber, Who are nearby.
When he has taken off his armor, the bachelor tells them how he encountered Don Quixote, defeated him in combat, and made him promise to desist from his knight-errancy for one year and return home. Satisfied with it all, they now hope that he will be cured of his chivalrous insanity. Now they must inform his niece and housekeeper. Far away, Don Quixote pleads with Sancho to lash himself so that Dulcinea may be disenchanted, saying that he will pay for the penitence.
So the greedy squire finally agrees and that same night, in the wood, begins his self-inflicted torment. He had only given himself five lashes
sometime before, and suffered So much from it, that he had doubled the price. The impatient Knight of the Pitiful Figure accepts the new price.
Sancho had a new idea both astute and cunning: hidden by the bushes, he
merely pretends to be lashing himself, whereas in reality, he is whipping a tree. He yells with every stroke, as bark falls off the unlucky tree.
Don Quixote, confident that his poor squire is fulfilling his promise, orders him to stop, as there will always be time to finish the penitence, even though Dulcinea must wait a bit longer to be disenchanted.

Webmaster: Santiago Romagosa - ,Productor largos "Don Quijote I & II", Comisario Exposición "Cervantes Encantado" y Director Gral.de la Sociedad Romagosa International Merchandising, S.L. ©-Romagosa International Merchandising, S.L -Todos los Derechos Reservados