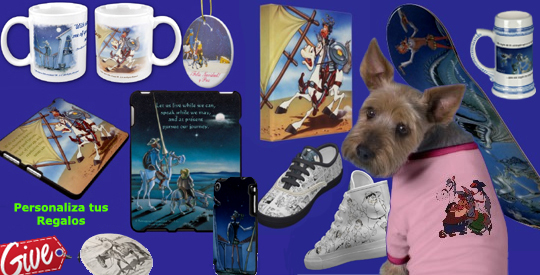 Visita QUIXOTEdotTV - LA TIENDA del IV CENTENARIO
USA | UK €/£ | Canada | Australia | New Zealand |Germany
España | Brazil | Portugal | France | Japan | Sweden
DON QUIXOTE OF LA MANCHA
CHAPTER XXXIV
"Sancho Panza Is Rescued"
(SYNOPSIS)
After leaving Barataria, Sancho heads towards the castle of the duke and duchess in order to join Don Quixote. On the way he meets up with some pilgrims, one of whom is a shopkeeper from his village, who had fled Spain during the expulsion of the Moslems. He had met his new found friends in Germany. Ás they were used to returning to Spain every year in a pilgrimage, he decided this year to accompany them and to look for a treasure he had buried near to his village. With this treasure, he planned to bring his wife and daughter from Algiers to Germany, to live with him.
The Moslem proposes that Sancho help him to find the hidden treasure, for which he will pay him 200 ducados for his troubles. But Sancho refuses on the grounds that it would be a treachery against his King by favoring his enemies. He then bids Ricote (the name of the Moslem) farewell and continues along his way. That night, Sancho decides to sleep along side of some ruins, but he draws too near and both he and his donkey fall into a deep pit.
The following day, after taking his leave of the duke and duchess, Don Quixote heads out for the Isle of Barataria, as he wants to see his squire. On passing by the ruins where Sancho had fallen, he hears Sancho
shouting. After a great ordeal, he finally succeeds in rescuing him from
the depths of the hole. Sancho then informs his master of all that had transpired in Barataria. Don Quixote consoles Sancho with a long diatribe on the pursuit of liberty, which he explains is one of the most precious gifts that Heaven has ever given to man.
Later on they arrive at a wood where they meet some maidens who lead a pastoral life, along with other shepherdesses and young men. They tell them about their bucolic existence and invite Don Quixote and Sancho to
be their guests. Smitten by the courtesy of such pretty lasses, and stopping in the middle of the road that leads through the wood, Don Quixote announces in a loud voice that there are not in the world more
beauteous and courteous maidens (except, of course, Dulcinea) than these
that he has just got to know, and that he will defend such affirmation
with his arms. Just then a herd of brave bulls (who know nothing about knighthood) come storming along the road, running over the brave Don
Quixote and his complaisant squire.
Recovered from their wounds, Don Quixote begs Sancho to begin lashing himself so that Dulcinea may be disenchanted. Sancho asks him to be patient, promising to do it later on.
The following day they arrive at an inn, where they meet two men with whom they discuss the false stories that one Avellaneda has written containing false adventures of Don Quixote and Sancho Panza. The men tell how the historian recounts that Don Quixote lost out in the jousts in Saragossa, saying that he neither won laurels nor fame. In order to give the lie to the false historian, our Nobleman decided not to go to Saragossa, but went to Barcelona instead.
Webmaster: Santiago Romagosa - ,Productor largos "Don Quijote I & II", Comisario Exposición "Cervantes Encantado" y Director Gral.de la Sociedad Romagosa International Merchandising, S.L. ©-Romagosa International Merchandising, S.L -Todos los Derechos Reservados