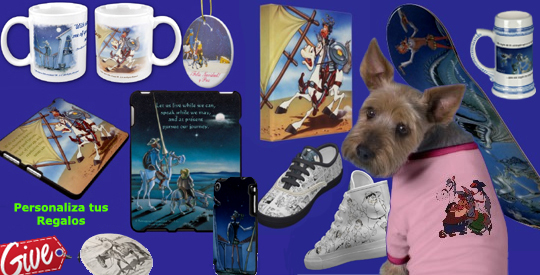 Visita QUIXOTEdotTV - LA TIENDA del IV CENTENARIO
USA | UK €/£ | Canada | Australia | New Zealand |Germany
España | Brazil | Portugal | France | Japan | Sweden
DON QUIXOTE OF LA MANCHA
CHAPTER XXVIII
"The Duke' s Castle"
(SYNOPSIS)
In Don Quixote's house, his niece and housekeeper are wondering what's become of him and where he might be wandering. They hope that the Bachelor Samson Carrasco will be able to find him and persuade him to return home, so that they may take care of him until he recovers his sanity.
The hound dog comes into Don Quixote's library where some of his books on knighthood still remain scattered about the floor. As the dog misses his master very much, he decides to go and look for him.
Don Quixote and Sancho arrive at a field where they meet a woman who is very expensively attired and who is surrounded by a group of hunters. The knight sends his squire to the lady to present his respects, which he does. Sancho tells the lady that Don Quixote wishes to be of some service to her. She sends word that both she and her husband, the Duke, will be happy to receive Don Quixote in their castle. Our knight-errant places his sword at the service of such great and high-ranking persons and together they all head for the castle. Upon arrival, Don Quixote is received in a grand manner (by order of the Duke and Duchess, who see the opportunity to have a lot of fun with so extravagant a noble-man and his amusing squire).
Sancho argues with one of the ladies of the court, whom he has confused with a servant, having told her to take care of his donkey.
They are invited to lunch with the duke and duchess, in the presence of a very dole ecclesiastic, who admonishes Don Quixote calling him a simpleton for believing that he is a knight-errant and saying that his lady-fair, Dulcinea del Toboso has been bewitched. Don Quixote replies very serenely and the ecclesiastic, offended because the duke and duchess
continue to lead the mad gentleman on (and even promising the squire the
government of an isle that is on their property), gets up and leaves the table in a fit of pique.
When the luncheon is over, a few maidservants come up with soap, towels and a bowl so that the guests may wash their hands. One places the bowl under Don Quixote's beard, who quite surprised, believes that in this strange land it is the custom to wash one's beard instead of one's hands. So he places his beard in the bowl. The waggish maidservants then begin to soap up his beard, yea, even his face and eyes, whilst the duke and duchess are hard bent to conceal their joyous emotions at so hilarious a scene.
Sancho then wants his beard washed, too, and So the duchess orders the butler to take care of Sancho in the kitchen. Shortly thereafter, Sancho appears running from the butler and one of the cooks who is holding a small trough with dirty dish-water that they were trying to wash him with. Don Quixote scolds them telling them to return to the kitchen as neither he nor his squire are about to put up with such bad jokes.
The duke chides the servants calling them scoundrels and pours the dirty
water over them thus making fun of the would-be practical jokers.

Webmaster: Santiago Romagosa - ,Productor largos "Don Quijote I & II", Comisario Exposición "Cervantes Encantado" y Director Gral.de la Sociedad Romagosa International Merchandising, S.L. ©-Romagosa International Merchandising, S.L -Todos los Derechos Reservados