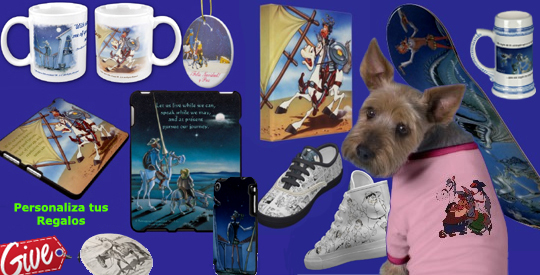 Visita QUIXOTEdotTV - LA TIENDA del IV CENTENARIO
USA | UK €/£ | Canada | Australia | New Zealand |Germany
España | Brazil | Portugal | France | Japan | Sweden
"DON QUIXOTE OF LA MANCHA"
CHAPTER XXV
"The Cave of Montesinos"
(SYNOPSIS)

.
Don Quixote and Sancho say good-bye to Basilio and Quiteria and take the road to the Cave of Montesinos with a young guide.
The entrance to the cave. is covered by brush but Don Quixote, after having pronounced solemnly the name of Dulcinea and placing this new adventure under her name, withdraws his sword and clears away the brush. At that instant, flocks of crows and rooks fly out of the cave, knocking our knight from his steed. Finally he descends into the abyss, as Sancho and the guide hold him on a rope.
When he gets down a bit, he discovers a lot of bats which, surprised at his presence in their domain, take to their wings and flurry out of the depths up towards the cave entrance. When Sancho and the guide see these little black beasts coming towards them, they are frightened and, letting go of the rope, take cover. Naturally, Don Quixote plummets into the profundities of darkness...
After many desperate efforts, they finally rescue our hero, who is now submerged in a profound slumber. When he awakens, he tells his surprised friends that buried deep down at the base of the abyss there is a wonderful pasture and that in the middle of it there is a castle made of glass, wherein abide. the old Montesinos, his friend the Knight Durandarte, Belerma (the Knight's lady fair) and also, amongst many others, his own lady-fair, Dulcinea del Toboso, all of whom have been enchanted by the same wicked sage, Merlin, and that only he, our gallant Nobleman, through the valor of his strong right arm, was able to escape the enchantment and return to the top.
Sancho is convinced that 'tis all naught but the fantasia of his master but the guide promises to write a book about it all.
Later on, as they were heading towards a hermitage to pass the night, they came upon a man carrying lances and halberds. The traveler informs them that he is on his way to the roadside inn, just a wee bit up further and that once there, he will explain the meaning of his strange cargo.
After they had bid farewell to the man, Who lives at the hermitage, Don Quixote, Sancho and the guide come upon a lad with a bundle on his shoulders, who is singing gaily as he walks along the road. He explains to them that he is trying to catch up with a group of soldiers bound for the port of Cartagena, where they will set sail for Italy.

The four continue on to the inn where they meet the man of the lances
and halberds, Who agrees to tell them at supper why he is carrying such
things.

Webmaster: Santiago Romagosa - ,Productor largos "Don Quijote I & II", Comisario Exposición "Cervantes Encantado" y Director Gral.de la Sociedad Romagosa International Merchandising, S.L. ©-Romagosa International Merchandising, S.L -Todos los Derechos Reservados