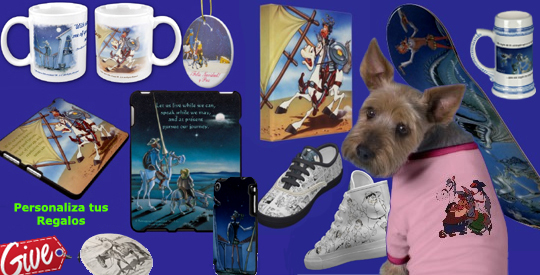 Visita QUIXOTEdotTV - LA TIENDA del IV CENTENARIO
USA | UK €/£ | Canada | Australia | New Zealand |Germany
España | Brazil | Portugal | France | Japan | Sweden
DON QUIXOTE OF LA MANCHA
CHAPTER X
"The Adventure of the Sierra Morena"
(SYNOPSIS)

Sancho, fearing the same as did the galley slaves, advises his master of the wisdom of taking to the hills, as the Holy Brotherhood will surely come looking for those who had freed the slaves.
Ginés de Pasamonte, now having freed himself of his chains, slips into the camp where Sancho and Don Quixote are sleeping, and steals Rucio. Rocinante awakens Don Quixote, who mounts his faithful hack, and goes off
after the galley slave.
Don Quixote follows Ginés de Pasamonte, but Rocinante trips on a stone and tosses his rider to the ground.
In recompense for his loss, Don Quixote offers Sancho three of the four asses he has in his stables. At this moment, Rocinante discovers an old case half-hidden in the grass, with gold crowns inside.
"Thanks be to high Heaven! At last we have had a gratifying adventure!"
exclaims Sancho.
"Keep that money for thyself, good Sancho, as I want to repay thee for thy loyalty."
They also find a notebook that had belonged to the owner of the case. Don Quixote writes a message to Dulcinea inside the notebook and asks Sancho to take it to El Toboso. Then our enamoured nobleman decides to do penitence in the mountains, in imitation of knights-errant of past times.
Sancho then sets out for El Toboso mounted on Rocinante, arriving at
the inn where he had been tossed in a blanket. Wondering if he should enter or not, the curate and town barber come out to greet him. He informs them that he carries a message for Dulcinea from his master and that he has left Don Quixote doing penitence in the Sierra Morena.
The Licentiate and Master Nicholas are quite surprised at this and,
when Sancho is sleeping, they disguise themselves, one as a damsel in distress and the other as her squire. The false damsel would ask a boon of Don Quixote and he, as knight-errant would not be able to refuse. With this plan in mind, they believe they will be able to take their friend and neighbor back to his village in order to cure him of his chivalry madness.
With a few hoods and petticoats that the innkeeper's wife loaned them, and the tail of an ox to serve as beard, the Licentiate and Master Nicholas disguise themselves.
Upon seeing So rarified a sight, the inn cat lets out a shriek and dashes away in fear. jumping to the roof and into a window where Sancho is sleeping. falls on him and continues running.
"Ghosts!" shouts Sancho -"No wonder Don Quixote said this inn was
haunted!"
Then, the hound dog, who had returned to the inn, and the cat, took
part in a funny episode.
Webmaster: Santiago Romagosa - ,Productor largos "Don Quijote I & II", Comisario Exposición "Cervantes Encantado" y Director Gral.de la Sociedad Romagosa International Merchandising, S.L. ©-Romagosa International Merchandising, S.L -Todos los Derechos Reservados