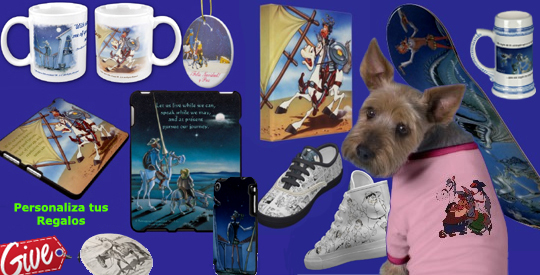 Visita QUIXOTEdotTV - LA TIENDA del IV CENTENARIO
USA | UK €/£ | Canada | Australia | New Zealand |Germany
España | Brazil | Portugal | France | Japan | Sweden
DON QUIXOTE DE LA MANCHA
Chapter XXII
"The Bold Knight of the Mirrors"
(Synopsis)
As they continue their way towards Saragossa, Don Quixote and Sancho come across some small-town touring actors who are riding in a cart and wearing their comic costumes. One is dressed as the Devil, another as Death and a third the King. Don Quixote tells them to halt and asks them who they are and where they are bound to. They explain that they belong to a theatrical company and are on their way to a neighboring village, where they are going to act. Our Nobleman then allows them to continue their journey, but as luck would have it, a mummer came running up towards him, jumping and kicking up his legs and waving. three blown ox-bladders tied to the end of a stick. Rocinante was startled and began bucking, throwing her rider to the ground. Sancho runs to the aid of his master and as he does so, the merry-andrew mounts Rucio and runs off on her.
Don Quixote decides to give chase, much against Sancho's counsel to the contrary, who does not wish to fight the comics.
Rucio throws the mummer to the ground, who then rejoins his troupe in
the cart. They all toss stones at Don Quixote.
Sancho then convinces his master that as none of them is a knight-errant,
it is unbecoming for him to fight against such low-born creatures.
Then that night, after they had settled down to rest in a near-by wood,
they see two strangers draw near, one of whom is the Knight of the Mirrors, and the other his squire. Don Quixote and Sancho converse with them. At dawn the next day, Don Quixote and the Knight of the Mirrors argue over the beauty of their respective Ladies, and agree to a duel over which is the fairer. The squire of the mirrored fellow chaffs
Sancho, but he refuses to fight. Finally, the two knights engage in
battle and Don Quixote comes out the victor, tossing his rival to the ground. Once on the ground, our Nobleman and Sancho discover that the
conquered knight is none other than Samson Carrasco in disguise! Sancho
is taken aback but Don Quixote asserts that without a shadow of a doubt,
'tis the work of the enchanters who have cleverly transformed his rival
into the bachelor in order to deprive him of the glory of his victory.
Then he commands the fallen Knight of the Mirrors to go to Toboso and present himself before the incomparable Lady of his Thoughts, la Dul-
cinea. Samson Carrasco and his squire then retire, vanquished and humiliated, and Don Quixote and Sancho continue their way.
Sancho, a good and simple fellow that he is, believes that he recognized
the "squire" of the Knight of the Mirrors as his neighbor, Tome Cecial,
but as he is so confused and shaken by it all, he is not sure whether it was, in reality his neighbor, or indeed the bewitched apparition of some ungodly enchanters...

Webmaster: Santiago Romagosa - ,Productor largos "Don Quijote I & II", Comisario Exposición "Cervantes Encantado" y Director Gral.de la Sociedad Romagosa International Merchandising, S.L. ©-Romagosa International Merchandising, S.L -Todos los Derechos Reservados